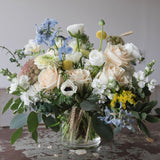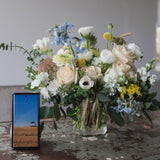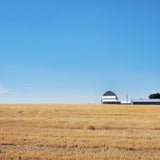 Somewhere Between Here & There | Most Popular!
$109.00 USD $119.00 USD
One hot summer day, I took this photo on a road trip while stopping at a Starbucks for a coffee break. This location is somewhere between here and there. I love the flat plane of a horizon. The colors are balanced and so natural.  This picture reminds me a lot of my homeland and will be filled with seasonal flowers in whites, yellows, and blues. 
If you can guess the location of this photo, I will add a little "extra" to this arrangement. :)
*Please note fresh cut flowers, foliage, and hard goods including vases and packaging may need to be substituted at the florist's discretion due to seasonality and compressed availability of flowers and supplies. Unforeseen events can happen, but First & Bloom will ensure the quality and integrity of the florals does stay consistent.
Related products